Many plants can help you achieve better health. Holy basil (also known as tulsi), which has been employed in Eastern culture for millennia to promote good health and prevent illnesses, is one of the most well-known natural medicines. Holy basil is considered a sacred plant in Hinduism and Buddhism and a medicinal herb that promotes peace, joy, and happiness while also protecting people from stress-related sickness. We'll look at six advantages of holy basil in this article.
Holy basil is a great way to help your heart since it improves heart health by supporting cortisol regulation and decreasing stress. Then, you'll discover how this herbal medication helps control and improve blood sugar levels. The herb also contains antioxidants that can assist prevent cancer by combating free radical damage and removing poisons from the body. Once you've finished reading, you'll be able to draw from the holy basil's important health advantages.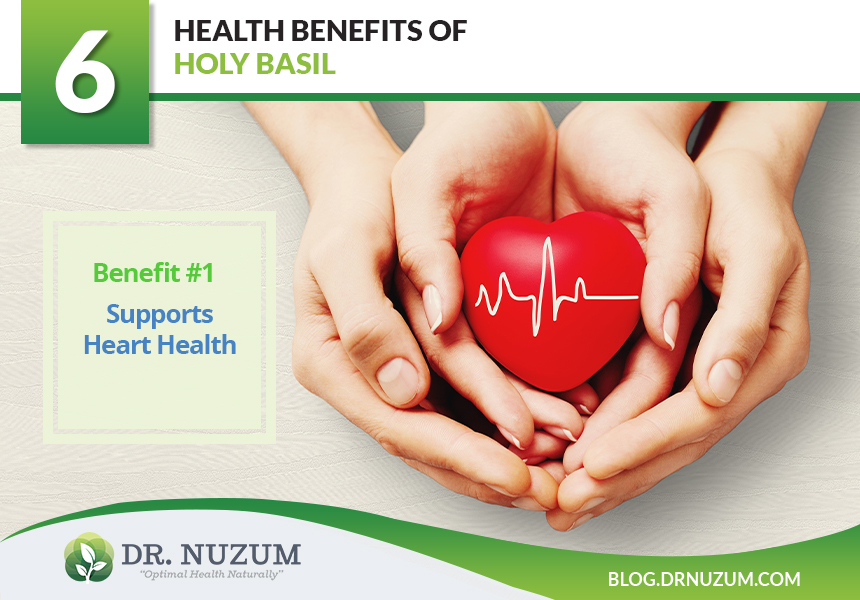 1

Supports Heart Health
Holy Basil contains anti-inflammatory and antioxidant properties, which may help prevent heart damage caused by free radicals. Holy Basil has also been found in studies to help reduce blood pressure and cholesterol levels. Both of which are crucial for maintaining a healthy heart.
Holy basil, often known as tulsi, is a herb with a long history of usage in Ayurvedic medicine. Holy basil may help prevent heart disease and stroke by lowering blood pressure, improving cholesterol levels, slowing tumor growth, and reducing inflammation. Basil is also a potent antioxidant, which means that it can neutralize free radicals in the body and protect against cell damage that they cause.
2

Balances Cortisol Levels
Holy basil protects the body from stress. The herb has been observed to aid in the proper balance of cortisol levels, which can prevent the negative effects of chronic stress on the body. Holy basil may also help with mood and cognitive performance when you're under pressure.
Holy basil is a healing plant that protects the body. Holy basil may be used to help you manage stress. It's an excellent substitute for people who don't want to take prescription drugs since it has no unwanted side effects.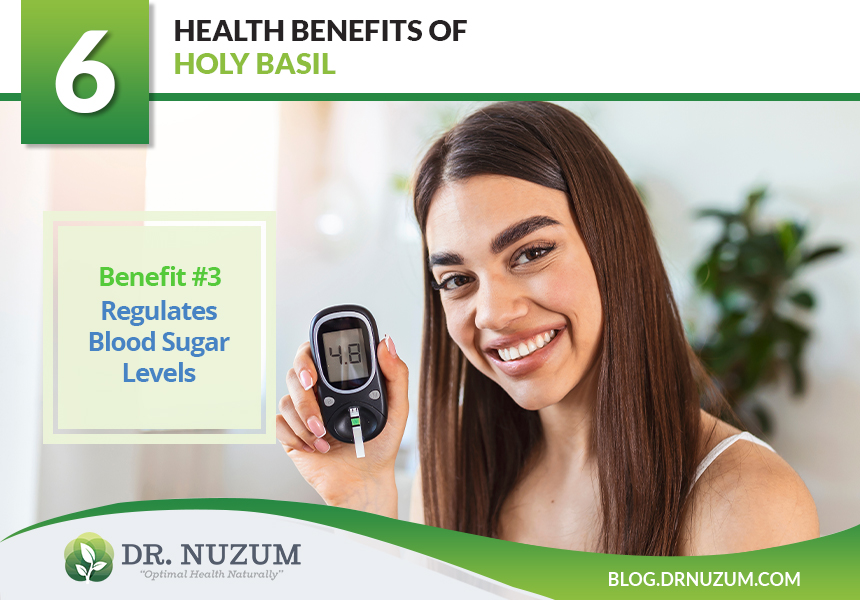 3

Regulates Blood Sugar Levels
In animal and lab tests, holy basil has been found to improve blood sugar levels. The plant includes chemicals that aid in the development of insulin sensitivity and lowering blood sugar levels. People dealing with diabetes or prediabetes may find it helpful.
According to one research, holy basil helps control blood sugar levels as well as minimize blood sugar increases after eating a high-carbohydrate meal. Holy basil also helps lessen insulin resistance in the body. In diabetic rats, holy basil lowered fasting cholesterol and improved blood sugar levels.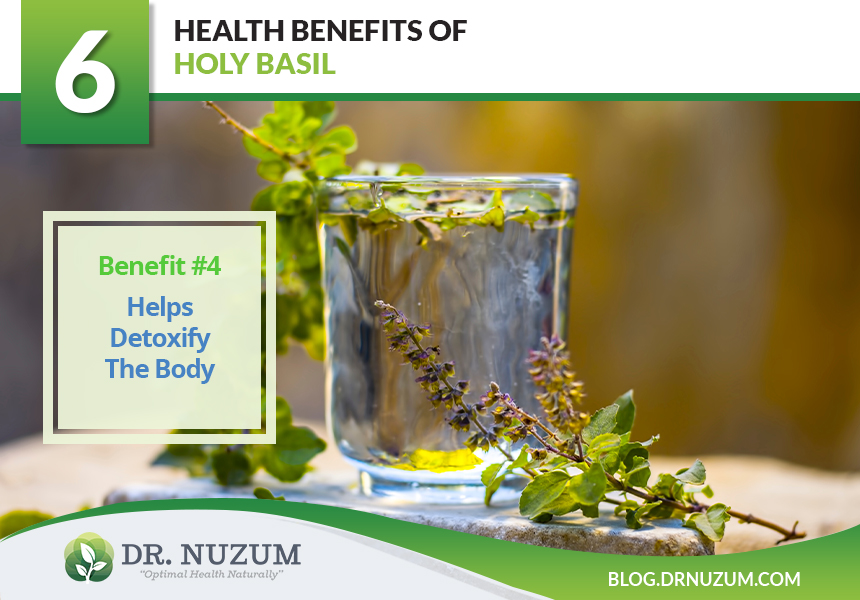 4

Helps Detoxify The Body
Holy Basil helps the body detoxify by promoting liver function and blood cleansing. The herb includes chemicals that assist in the elimination of poisons from the body. This can assist in minimizing cell damage and inflammation throughout the body. Holy basil also has a diuretic impact, which aids in the removal of toxins and waste from your kidneys.
Holy basil is a plant that has been used for centuries as an inebriant and medicine. It may help protect the cells from harm caused by pollutants in the environment. Holy basil also aids in the function of the liver and cleanses the blood. This can help reduce inflammation throughout the body by reducing irritation.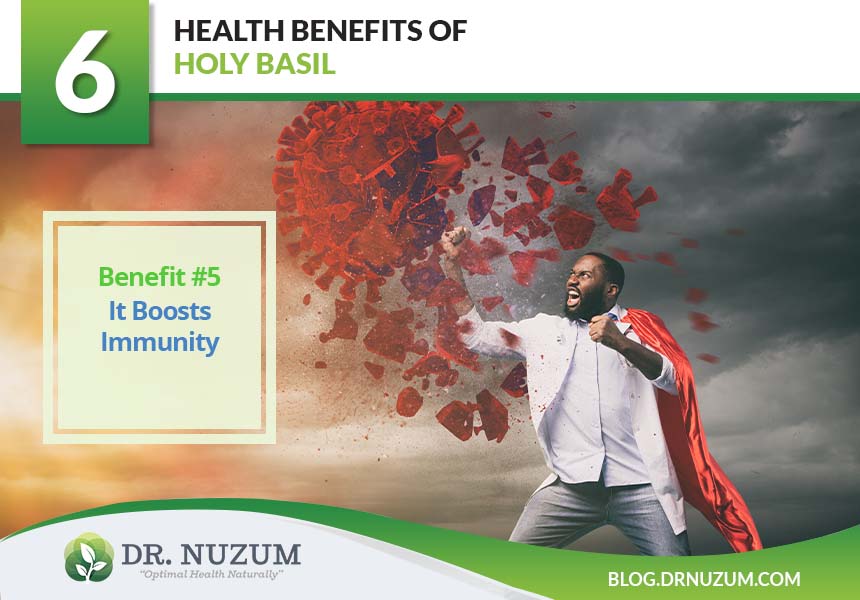 5

It Boosts Immunity
It has antibacterial and antiviral effects. They assist in improving immunity and preventing infection. The herb is effective against a variety of viruses and bacteria, including Salmonella, Staphylococcus aureus, Streptococci, Klebsiella pneumoniae, Escherichia coli, meningitis virus, HIV-I (AIDS virus), influenza virus type A/Hong Kong/156/97(HINl), herpes simplex virus types I & II.
Holy basil is an adaptogen. Adaptogens assist the body in maintaining equilibrium under physical or mental stress by strengthening homeostasis in the system. Holy basil promotes immunity while also reducing inflammation, which can cause a variety of infections. Holy basil's antioxidants may also help protect against free radical damage induced by environmental factors, like pollution and radiation exposure.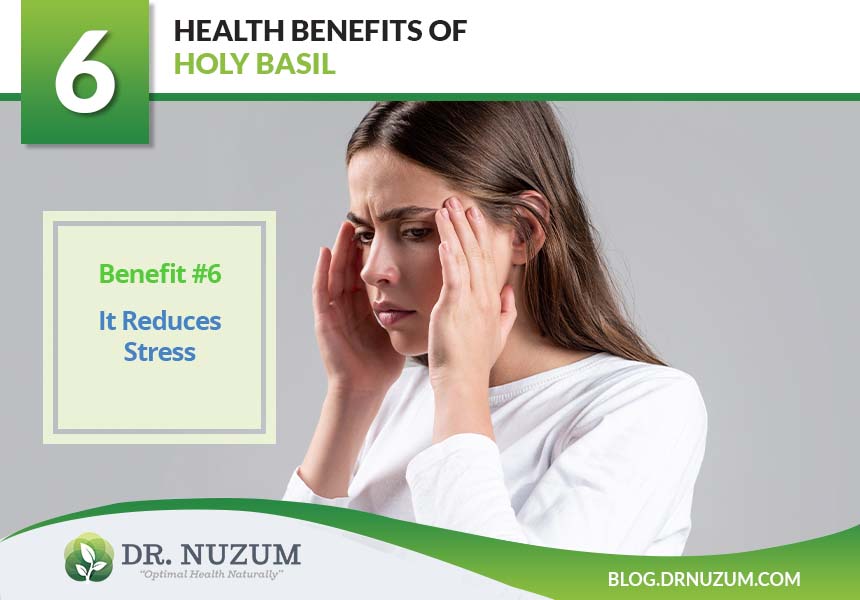 6

It Reduces Stress
Holy basil is a natural stress reliever. The herb has been found to aid in the reduction of cortisol levels, which can protect against the harmful effects of long-term stress on the body. Holy basil may also assist with mood and cognitive function during stressful situations.
As we previously stated, it protects against the damaging effects of stress on the body. This is one of holy basil's primary benefits. It achieves this by lowering cortisol levels and enhancing mood and cognitive performance during stressful circumstances.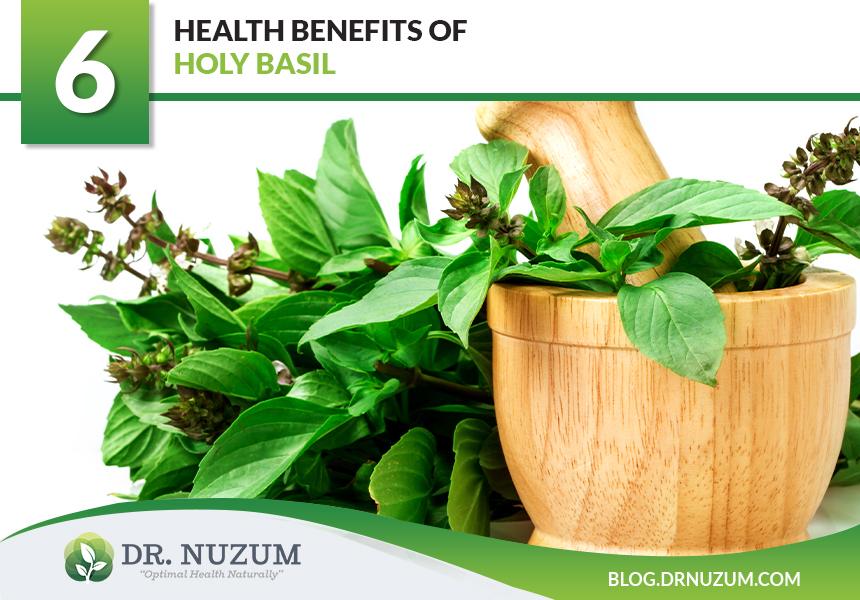 If you're looking for natural treatments to enhance your health, several plants might be beneficial. Holy basil (or tulsi), which has been used in Hindu tradition for millennia, is one of the most well-known. It is supposed to ward off stress-induced sickness by inducing peace, pleasure, and happiness. We covered six advantages of holy basil in this article.
You learned how holy basil aids in heart health and cortisol equilibrium in the first part. You subsequently learned how this botanical treatment helps control blood sugar levels. Then, we went through how antioxidants found in holy basil can assist in preventing DNA damage that can lead to cancer and concluded with the fact that the herb contains chemicals that remove pollutants from the body. Now you know what you've been reading, you may take advantage of holy basil's outstanding health advantages.