Collagen is the most abundant protein in your body. It's present in connective tissues, such as the tendons, ligaments, skin, and muscles, and makes up a large proportion of these structures. Collagen supplements are becoming more popular lately. The majority of them are hydrolyzed, which means that the collagen has been destroyed so that it may be absorbed easier. We'll discuss some of the advantages of collagen supplementation in this article.
Let's start with how collagen can improve the skin and boost muscle mass. We'll go over the additional health benefits of collagen in the next section. Then, we'll cover how it promotes heart health and its side effects. You will be able to take advantage of the health benefits of taking collagen supplements after you've finished reading this material.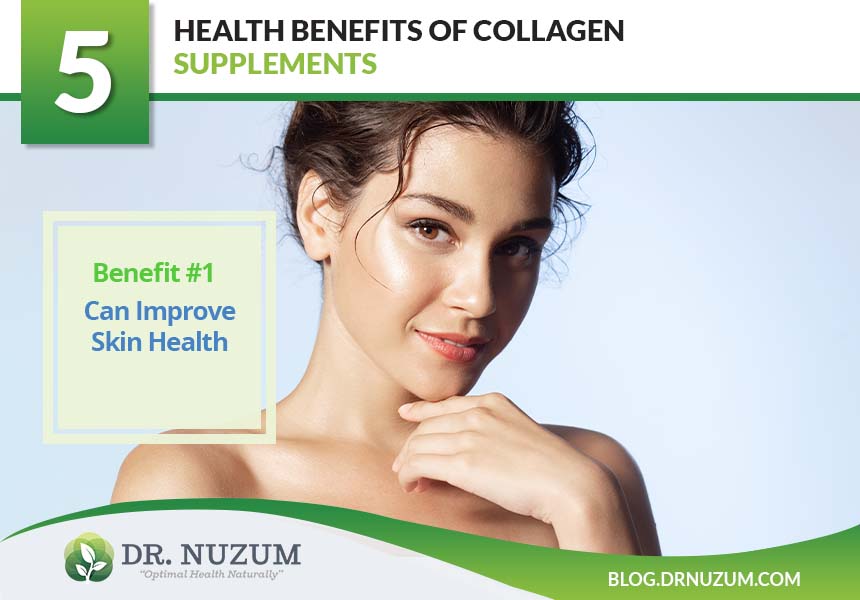 1Can Improve Skin Health
Collagen is a major component of your skin's structure. It contributes to the improvement of skin firmness and moisture as well as elasticity. Your body makes less collagen as you grow older, resulting in dry skin and wrinkle formation. Collagen peptides or products that contain collagen, on the other hand, have been shown in several studies to help reduce wrinkles and dryness in aging skin.
Women who consumed a collagen beverage mixed with a supplement every day for 12 weeks had improved skin hydration and a significant reduction in wrinkle depth when compared to a control group, according to one research. Collagen supplements' ability to encourage your body to create collagen on its own has been credited with wrinkle-reducing effects. Collagen supplements may also help promote the formation of other proteins that help shape your skin, including elastin and fibrillin, by stimulating your body's production of these components.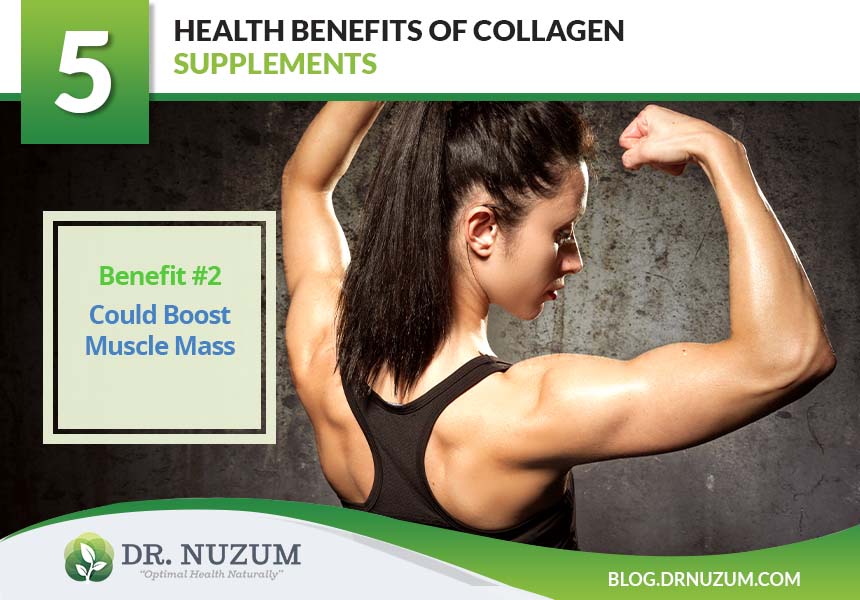 2Could Boost Muscle Mass
Collagen makes up one to ten percent of muscle tissue. This protein is required for the maintenance of your muscles. Collagen supplements have been found to help people with sarcopenia or age-related loss of muscle mass gain more muscle and strength. Twenty-seven frail men took 15 grams of collagen every day for 12 weeks while participating in a fitness program. They gained roughly twice as much muscularity and strength as the males who exercised but didn't take collagen.
According to researchers, taking collagen has been proven to assist in the formation of muscle proteins, like creatine, and stimulate muscular growth after exercise. Additional research is needed to assess whether collagen may enhance muscular bulk. Collagen supplements have been proven to improve muscular development and strength in people with age-related muscle loss.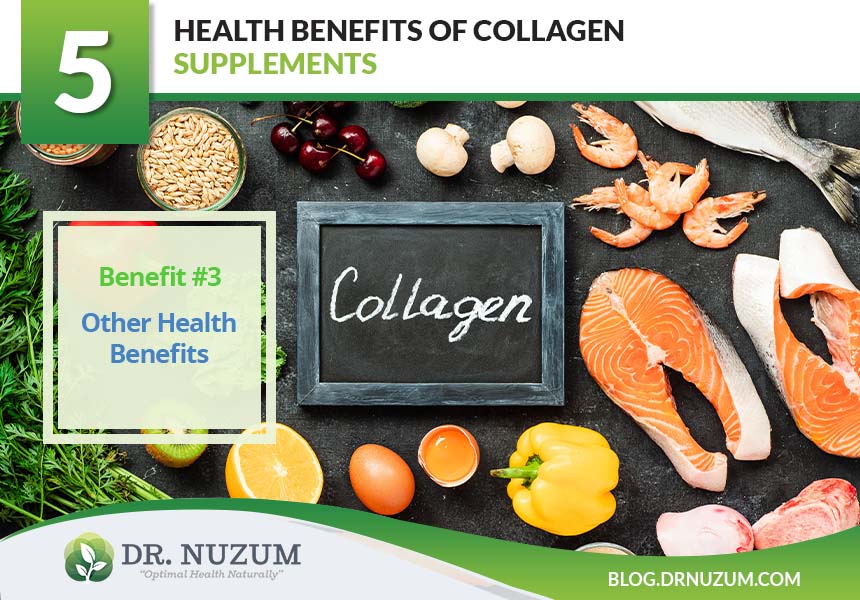 3Other Health Benefits
Other potential health advantages of collagen supplements have not been studied extensively. Collagen may help your nails become stronger by preventing brittleness. It may also promote hair and nail growth by stimulating them to grow longer.
Some people say that collagen supplements can help improve gut health. But there is no scientific evidence to support this. Some health practitioners believe that collagen supplements can help treat intestinal permeability or leaky gut syndrome.
4Promotes Heart Health
Collagen supplements have been studied for their effects on heart-related diseases. Collagen gives structure to your arteries, which are the blood vessels that carry blood from your heart to the rest of your body. Arteries can become weak if there is not enough collagen. This may lead to atherosclerosis, a disease in which the arteries narrow. Atherosclerosis has the potential to cause a heart attack or stroke.
Thirty-one healthy individuals took 16 grams of collagen each day for six months in one research. Compared to before they began taking the supplement, they evidenced a significant reduction in measures of arterial stiffness at the conclusion. They also boosted their HDL "good" cholesterol levels by an average of six percent. HDL is important since it helps prevent heart disease, such as atherosclerosis. However, additional research on the impact of collagen supplements on heart health is needed.
5Collagen Side Effects
There are currently no known hazards linked with collagen supplements. Some collagen products, on the other hand, are produced from common food allergens, including fish, shellfish, and eggs. To avoid allergic reactions, individuals who are allergic to these foods should avoid collagen supplements prepared with these components. Collagen tablets have been reported to leave a persistent unpleasant taste in some people's mouths.
Additionally, collagen supplements might cause some side effects, such as feeling full and having heartburn. But these supplements are generally safe for most people. If you have allergies, make sure to get supplements that don't include collagen from sources you're allergic to.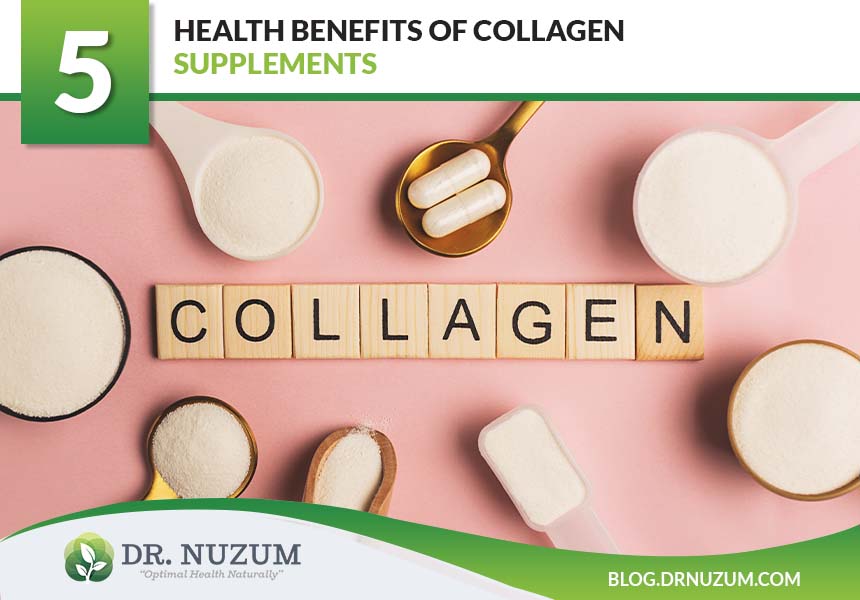 The most abundant protein in your body is collagen. Several body parts, including the tendons, ligaments, skin, and muscles, are made up of connective tissues where collagen is a major component. Collagen supplements have become popular in recent years. Most of these supplements are easier for you to absorb because they are hydrolyzed. In this article, we shared with you some of the benefits of taking collagen supplements.
We looked at how collagen can improve the skin and boost muscle mass. We then spoke about the additional health advantages of collagen. After that, we discussed how it promotes heart health and its side effects in detail. You may now use the health benefits of taking collagen supplements to your advantage.